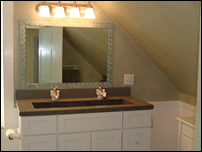 Scott and Kevin at Stone Craft turned what seemed like an impossible renovating nightmare into an absolutely beautiful and functional piece of art. Our 1830's farm house presented a real challenge when we started to renovate our master bathroom. I wanted something that would appear traditional and yet accommodate more than one user. We had limited space and a sloped ceiling. Their solution of custom designing a trough sink that accommodated two pump looking faucets met all my criteria and then some.
Kevin and Scott were a joy to work with and their ability to work with individual requirements in an economical way made for a wonderful experience. They worked closely with me from the beginning to the end of the project and met all deadlines as promised. Stone Craft's a wonderful find when looking for something unique and beautifully created for your personal project.
Barbara
Durham, ME
---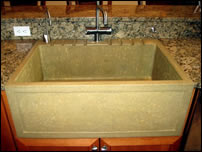 Hi Kevin. Here are some photos of the sink in our finished kitchen in Oquossoc. It looks fantastic and we receive compliments and comments on it constantly. Most guests think it is soapstone and are surprised to discover it is concrete. The color is a nice complement.. I love the large custom size, shape and soap dish area.
Colleen
Oquossoc, ME
---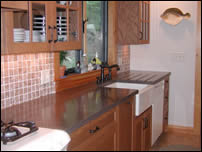 "For years now, our family and friends have enjoyed so many beautiful moments around our countertops from StoneCraft. Their color, feel, and heartiness are perfect in our home"
Little Sebago Lake, ME
---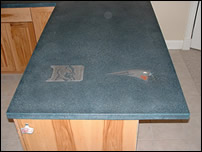 "We searched high and low for a counter top product to use in our new home that wouldn't just be the "cookie cutter" solution. Of all the materials we found, concrete allowed the most flexibility in color, design, and durability. Scott was able to come up with colors you can't get anywhere else. Then, he made one of a kind counters for our game room that always bring the best compliments from any guest. It's been 3 years, the counters look great and we're still happy."
Mark & Becky Curtis
Gorham, ME
---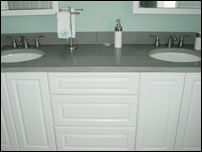 "Scott Chase was so wonderful to work with. We found him to be very helpful and our bathroom vanity looks great."
Pam & Doug
Gorham, ME
---
"There's something special about knowing that our countertops are one-of-a-kind. Our kitchen is the highlight of our home thanks to Scott's passion and craftsmanship."
We wanted something contemporary that would work within the authenticity of our Victorian home. StoneCraft helped us find that perfect balance with concrete.
We looked at everything from natural stone to some of the high-end synthetics. Nothing met all of our needs until we found StoneCraft and learned about concrete."
Liz & Greg
Portland, ME
---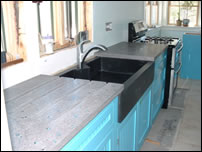 "I get so many positive compliments on my concrete counters and sink from StoneCraft. They are unique, strong, functional and blend into my kitchen beautifully. The folks at StoneCraft are wonderful to work with, on time with their delivery and very customer oriented….great to do business with!"
Kathie
Woolwich, Maine
---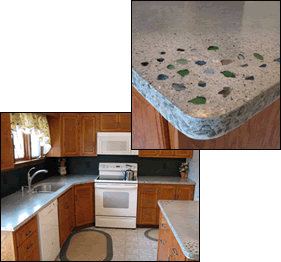 We just can't say enough about our new StoneCraft concrete countertops. The finish, texture, artistic edging and custom inlay all speak for themselves.
Scott was very easy to work with--and knowledgeable—offering many suggestions that contributed highly to the successful remodeling of our kitchen. He is an artisan by nature, and a true craftsman of the old school.
In our 'book', StoneCraft goes highly recommended.
Ed and Sandy Valente
Scarborough, ME