Creator of countertops makes Mainers' discarded glass shine anew
The waste-disposal cooperative ecomaine hopes to see a rise in demand for the material.
By JOHN RICHARDSON, Staff Writer December 7, 2009
For more information about Main EcoStone

John Ewing/Staff Photographer
Scott Chasse holds some crushed waste glass used in countertops.
Susan McGinty of Old Orchard Beach stands near her new kitchen counter with Scott Chasse, founder of Gorham-based Stone Craft, a business that turns the glass from crushed waste glass into countertops.
Susan McGinty of Cumberland, a devoted recycler, is trying to renovate a cottage in Old Orchard Beach using environmentally friendly materials.
So she was especially excited to find her new kitchen countertop. The decorative concrete was made in Gorham with pieces of Greater Portland's discarded bottles and jars.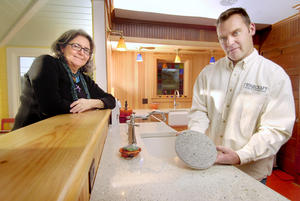 John Ewing/Staff Photographer
"There's a lot of different little flecks of color in there, and the bigger pieces look like glass and you can see down into them," McGinty said after the counter was installed last week. "I've been staring at it all day."
Communities throughout southern Maine have been working hard to separate glass, paper and other recyclable materials from the waste stream. But sorting items is, in some cases, the easy part. Putting them into new products can be more difficult.
McGinty's countertop is the latest example of a new use – and a local one – that could help close that recycling loop.
"If you're not buying recycled, you're not recycling," said John Albertini, program coordinator for the Maine Resource Recovery Association, a Bangor-based nonprofit that markets waste commodities for 150 Maine cities and towns. "It doesn't do any good to take it to the recycling center if you're not buying it on the other end."
Ecomaine, the waste-disposal cooperative owned by 21 communities in southern Maine, collected 30,700 tons of paper, plastic, glass and other recyclables during the fiscal year that ended June 30, a 10 percent increase from the year before.
Once collected and sorted at ecomaine's plant in Portland, every ton was sent somewhere to be reused, said Kevin Roche, ecomaine's general manager.
Used newsprint is one of the few materials that stays in Maine, where a small number of mills turn it into new newsprint, telephone directories, paper plates and trays for fast-food restaurants.
Mixed paper and cardboard, metal and plastics get shipped out of Maine, and sometimes out of the country. The materials are turned into new paper, new boxes, new metal and new plastic containers, as well as secondary uses such as the fleece jackets and carpeting made out of plastic soda bottles.
Crushed glass is typically the most difficult material to unload. "Glass is something that never really caught on," Roche said.
Manufacturers use it to make new jars and bottles. But, in part because glass has been replaced by plastic in many uses, the price paid for old glass is often too low to justify the processing and shipping costs.
Ecomaine processes about 1,200 tons of discarded glass a year. Because there is effectively no market for it, ecomaine and local public works departments use most of it as road base or fill for parking lots, culverts and other projects.
Roche was happy to help when the owner of Stone Craft in Gorham called several months ago and asked about using the glass in countertops.
"If you're willing to pick it up, we won't even charge you for it," he said. "That's our way of trying to stir some interest in the glass."
Stone Craft makes high-end concrete countertops out of cement, sand and stones. McGinty's new countertop is one of the company's first made with 85 percent waste glass, a product it calls Maine EcoStone. The company plans to install the counters soon at a Portsmouth, N.H., bar and in the Children's Museum of Maine in Portland.
The company likes the glass because it's strong, reduces the need for other raw materials and can be made to match any color. The company also prides itself on using local materials.
"This is the glass that we throw in our blue bins in Portland," said Kevin Butterfield, who is in charge of installation and customer service for Stone Craft. "It really allows us to have a project that Mainers can afford and Mainers can be proud of."
It can cost less than other glass countertops on the market, or countertops that Stone Craft has made with imported glass, but the cleaning and processing of the crushed glass add to the cost, the company says.
Stone Craft's cement-and-glass countertops cost about $100 per square foot installed, similar to high-end granite countertops, according to the company. McGinty spent a little more than $3,000 on hers.Roche said recycling works best when the waste comes back in the same form, such as old glass jars made into new jars.
But Ecomaine is glad just to see its waste glass going back into a product that people can buy, the last essential step in the process. The fact that it is a local reuse makes it even better, he said.
"These are the types of smaller applications that seem to get things started," Roche said. "All these little projects do add up, and, hopefully, we'll spur local demand."
McGinty, who represents Cumberland on ecomaine's board of directors, said she knows that recycling doesn't end when you drop that paper and glass into the recycling bin. And, she said, she's glad to help start a market for Greater Portland's waste.
"Once I got this idea that it could be something from ecomaine, then I started to get really excited about it," she said, "But I think it's cool-looking anyway."