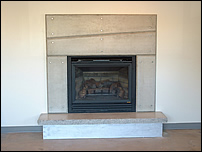 Scratch Resistance:
StoneCraft concrete is scratch-resistant. Still, we recommend using or having us build in a cutting board in order to protect your knives and your countertop's sealer.
Heat Resistance:
Concrete is extremely heat-resistant. All StoneCraft colors are heat-resistant to at least 1200°. Furthermore, the sealers that we apply are also heat-resistant. Nevertheless, we recommend using a hot pad or having us build an attractive trivet into the counter.
Strength:
StoneCraft countertops have compressive strength of 8,000-10,000 pounds per square inch (psi), making them one of the strongest solid surface counters available.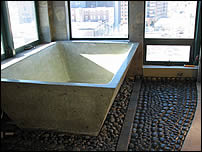 Reinforcement w/ Flexibility:
At StoneCraft, we use high-strength, lightweight carbon and poly vinyl (pva) fibers to reinforce our concrete. This creates a counter with superior tensile strength allowing it to handle loads of over 1000 pounds on an unsupported 12-inch overhang.
Chipping:
Any solid surface may chip. In the unlikely event of a chip, it can be filled and/or sanded to original appearance.
Cracking:
As concrete matures and completes the curing process, final shrinking can cause a bit of micro cracking. These cracks are never structural; and, combined with our rich colors, they add depth and character to the piece.
Stain-Resistance:
Like any natural solid surface, StoneCraft Concrete is not totally stainless. However, our crafting process, along with the application of our sealer, minimizes surface porosity and make spills easy to clean up. Nevertheless, we recommend that you clean spills up behind you.
StoneCraft Has:
Shapes:
StoneCraft takes pride in crafting horizontal or vertical concrete in any shape or space with no wasted material.
Color:
At StoneCraft, we offer 17 standard colors, 5 premium colors, acid-stain finishes and a passion for matching the color or design our client is seeking. Each color is resistant to ultraviolet rays and guaranteed from fading.
Integrated Bowls or Drain Boards:
StoneCraft creates bowls and drain boards of any shape as part of one integrated piece with the counter.
Inlays:
StoneCraft counters can include an endless array of personal accents in the form of inlays. At StoneCraft we bring inlays into view along a smooth, functioning surface.
Fiber Optic Displays:
At StoneCraft we offer creative lighting designs embedded within our pieces.
Heat Source:
StoneCraft products can include law-wattage electric heating elements to supplement home heating, dish drying, or food 'keep-warm'.